Dr. Harper Echoes Finding of New Report: Grim Future for Healthcare Costs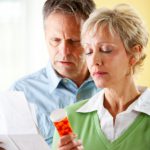 A recent study projects that the cost of health insurance will exceed the income of most Americans by 2037.
 At the Isagenix New Year's Kick-Off recently in Phoenix, Dr. Dennis Harper shared that health insurance premiums in the U.S. will eventually surpass household income.  He wasn't kidding. According to a report published in the journal, Annals of Family Medicine, health insurance will cost more than the average income of an American household by 2037.
Health Care Costs Could be 50% of Income
Even more worrisome is that this projection is best-case scenario—there's a good chance that healthcare costs will reach their tipping point even sooner. As the authors put it:
"If health insurance premiums and national wages continue to grow at recent rates and the US health system makes no major structural changes, the average cost of a family health insurance premium will equal 50% of the household income by the year 2021, and surpass the average household income by the year 2033. If out-of-pocket costs are added to the premium costs, the 50% threshold is crossed by 2018 and exceeds household income by 2030."
The scary projections come from a mismatch in health care costs and household income—costs are increasing too quickly for the sluggish wages most Americans are earning. Add to that the fact that fewer workers are getting insurance from their jobs. Those who are covered are also at risk as they have higher premiums to pay and have seen benefits slashed and out-of-pocket costs grow. The result is a perfect storm, leaving the sick broke and hopeless.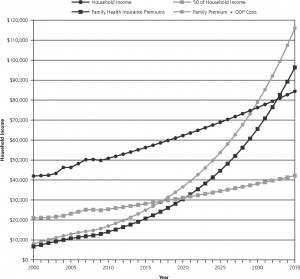 Projected annual family health insurance premium costs and average household income in the United States. OOP = out-of-pocket.
So what's an average American to do to weather the healthcare storm? One of the best ways to avoid the drastic increase in healthcare costs is to avoid needing to use the healthcare system. As Dr. Harper said, healthy lifestyles are going to have to become the norm and people will have to take responsibility of their own health if they plan on avoiding going broke from healthcare costs.
Eating a nutritious diet, living at a healthy weight, and getting regular exercise are the foundation for a healthy lifestyle. This is where Isagenix steps in.
Isagenix Has Health Care Tools
With products and systems aimed at increasing overall health,
Isagenix
has the tools for anyone to take responsibility of, and improve, their health. Need to reach your healthy weight? Isagenix has you covered. Need to make sure you age as youthfully as you can? Isagenix has you covered. Need to support an active lifestyle? Isagenix has you covered.
When considering the best health coverage you can have—one that doesn't exceed your income and keeps you out of the doctor's office—Isagenix should be at the top of your list.
Reference: 
Young RA, DeVoe JE. Who will have health insurance in the future? An updated projection. 
Ann Fam Med
 2012;10:156-62. 
doi: 10.1370/afm.1348