Meet Isagenix® Consultant Heather S.
She is a full-time professor of physiology, exercise science, and nutrition at Humber College and the University of Guelph-Humber in Toronto, Ontario, and a full-time professional cyclist with Exergy TWENTY12 and the Canadian National Cycling Team.
Over the past four years, she has traveled the globe competing in multiple World Cups, World Championships, and other prestigious women's races such as the Spring Holland Classics, Route de France, Tour de L'Aude, and the Giro D'Italia.
Prior to becoming a professional cyclist in 2008, she was a professional hockey player from 2001-2008 with the Canadian National Women's Hockey Team and inducted into the Hockey Hall of Fame on the Esso Wall of Champions in Toronto, Ontario.
Two-Sport Professional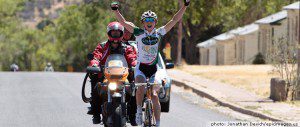 As a two-sport Canadian national team athlete, Heather knows all too well the important role good nutrition plays on the body's health and performance. As an exercise physiologist, Heather is also aware that many athletes are not getting the quality and quantity of nutrition their bodies need for optimal performance.
That's why she joined Isagenix in November 2010.
"I found the products to be the perfect nutritional intervention for me," says Heather.  "
IsaLean® Shakes
have the perfect portion of carbohydrates, protein, good digestive enzymes and fluids my body needs."
And, since incorporating the products into her daily regimen, Heather has seen a huge improvement in her post-race and post-workout recovery times; is sleeping better and has better mental clarity.
Nutrition for a Professional
She credits Isagenix with giving her the power she needs to fuel her passion and performance in cycling                                                                                                                                               .
"Isagenix gave me the assurance I needed as an athlete that I was replacing the right nutrition to get the most out of my workouts," says Heather.