Top Tips For Best 2013 Cleanse Day Results
Start the New Year off with a few simple steps to get you clean and lean in 2013!
Life is toxic. Every day, you're exposed to hundreds of lethal environmental toxins from the food and water you eat and drink, to the items you touch–even the very air you breathe. That's why regularly cleansing your body of these harmful impurities is so critical to your health and longevity. Cleanse for Life® supplies your body with the nutrition it needs to cleanse itself naturally.
Schedule Cleanse Days Now
So, if you want to start your New Year off on the right foot, schedule your Cleanse Day now. Here are our top tips for creating your best Cleanse Day results:
1. Set Your Timeline. You've heard it takes 30+ days to form a habit, right? Get out your calendar and make the appointment to have one Cleanse Day every week during the month of January and February to get on track. (Join the IsaBody Challenge for even more accountability with a sweet prize at the end!)
2. Cleanse Your Fridge & Pantry. Those cookies, holiday candies and other tempting snack foods will only beckon to you on a Cleanse Day. Start by trashing (or donating, if unopened) anything tempting, artificial or sugary to ensure you don't grab for unhealthy goodies that might derail your well-intended plans.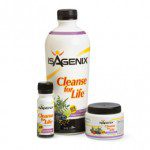 3. Stick With the Basics. On a successful Cleanse Day, consume only    Cleanse for Life®, Natural Accelerator™ and Isagenix Snacks!™ as your system guide suggests.
4. Snack Smart. Got the munchies? Try have one or two pieces of IsaDelight Plus™dark or milk chocolate. At only 50 calories each, they're the perfect Cleanse Day snack. IsaDelight Plus gives you a sweet treat that also fires up your fat burning potential thanks to the green tea extract infused in each one.
5. Phone a Friend. Struggling a bit? Make sure you get a cleanse buddy so you can call each other for extra support if you need it. Remind each other before and during about your goals and encourage each other to stick with it!
Cleanse Day Options
Or, try one of the following items that are also considered excellent Cleanse Day support options:
1/4 apple or pear (for a boost of energy or to manage blood sugar)
1-2 servings of Want More Energy?® (if exercising)
2 Isagenix Snacks!
4 Walnuts or 4 cashews, raw and unsalted
2-3 Stalks of celery
Cleanse Days are a powerfully potent and effective way rid your body of toxins while helping your system recalibrate itself to operating at peak efficiency. Cleanse for Life nourishes and supports are your healthy function and gives us all a fighting chance for healthy longevity.
Cleanse for Life is an indispensible part of the Isagenix 30-Day Cleansing and Fat Burning System.